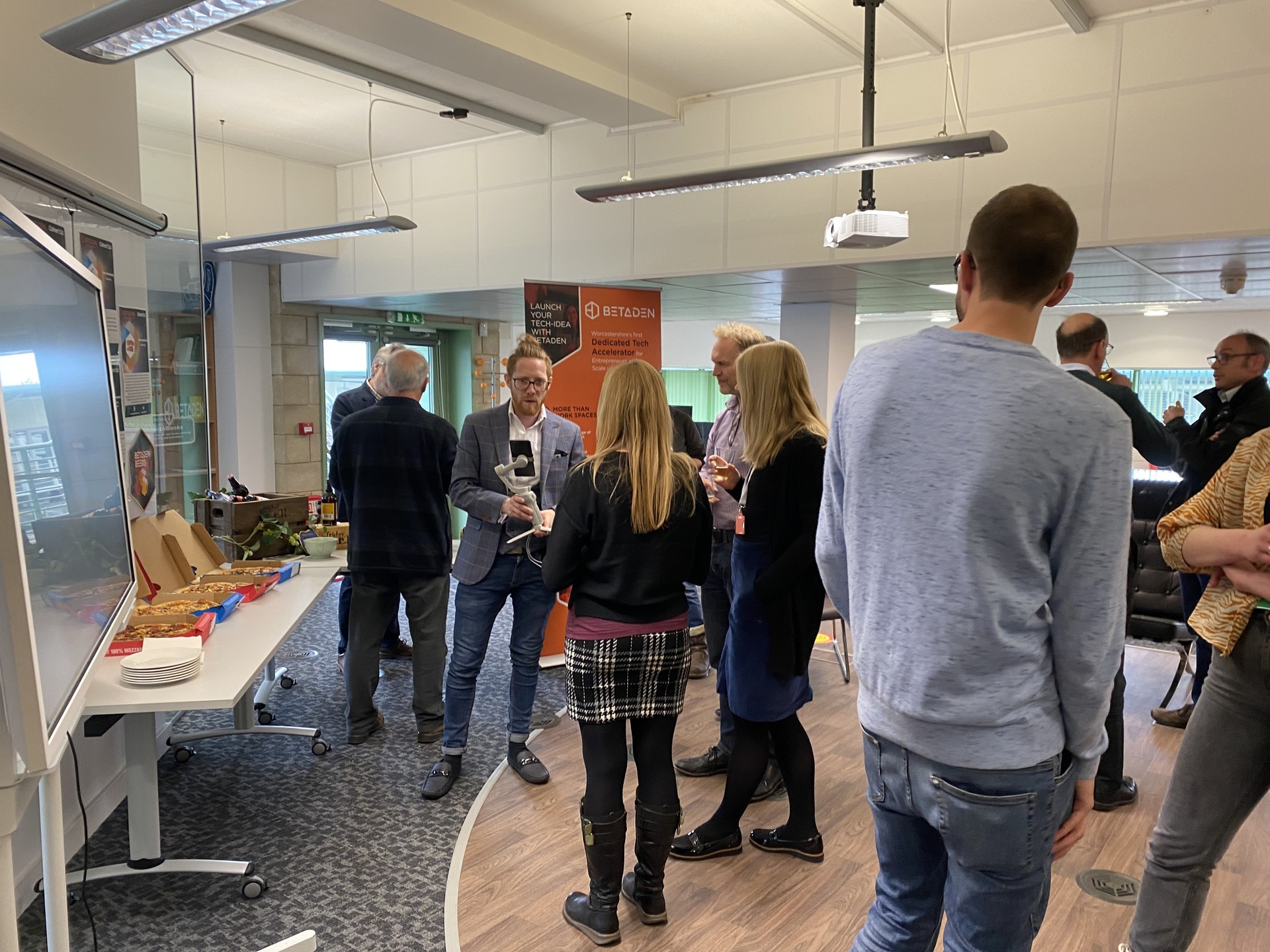 BetaDen Beers - popular networking event returns!
13 May 2022
Published in: General
---
On Thursday 28th of April, BetaDen hosted their first in-person open event since the pandemic.
---
Worcestershire's first Technology Accelerator BetaDen are no strangers to hosting events - they regularly host workshops, technology focussed events, and are currently collaborating with The Malvern Hills Science Park to bring back the well-received 'Summer Social' which first took place in summer 2021. Most recently, the popular networking event 'BetaDen Beers' had its long-anticipated return on the 28th of April 2022.
BetaDen Beers is an open networking event for the local tech community interested in the ever-growing technology landscape in Worcestershire. The event takes place on a selected Thursday of the month at the BetaDen HQ, which is situated at the heart of The Malvern Hills Science Park. It is open to anyone who wishes to network with fellow tech community members in a relaxed social environment and allows attendees to meet an alumni cohort who have benefited from BetaDen's offer. A huge benefit of a networking event set in an environment like this is that it allows attendees to connect with other professionals without feeling the pressure of formal meetings. BetaDen also invites any local technology start-up businesses to come along and introduce themselves to BetaDen, as they will soon be starting recruitment for Cohort 6.0 accelerator programme. This programme offers a £10,000 Proof Of Concept grant, a Marketing Fund worth £2,000, professional mentoring, and much more.
Starting off the April BetaDen Beers, Tommy Williams, CEO of PLINX, welcomed the attendees by sharing his experience of taking part in BetaDen's accelerator programme during Cohort 2.0, and their current connection to BetaDen. Furthermore, he also shared an update and figures on how PLINX is commercially progressing today. Tommy's speech was followed by an exciting afternoon full of networking, table football, pizzas and great local beer supplied by The Friday Beer Company. Attendees had a chance to meet some of BetaDen's mentor board as well as some of Cohort 5.0 founders, who are currently benefiting from the accelerator programme.
Paddy Fawcett, director of Invizio, said: "A very interesting collection of new businesses in Cohort 5. Great to get a chance to chat and hear their ambitions. Beer and pizza always helps too!"

Due to the event's remarkable success, BetaDen recently announced that BetaDen Beers will become a monthly event, with the next instalment taking place on the 19th of May 2022.
Attendees will have a chance to hear a short speech from Cesca Nutbeem, Cyber Executive at Midlands Cyber, and Matt Atkinson, Co-founder at The Malvern Technology Network.
You can reserve your free space for any of BetaDen's upcoming events here.
Tags
betaden
betaden beers
event
networking
technology
worcestershire
accelerator