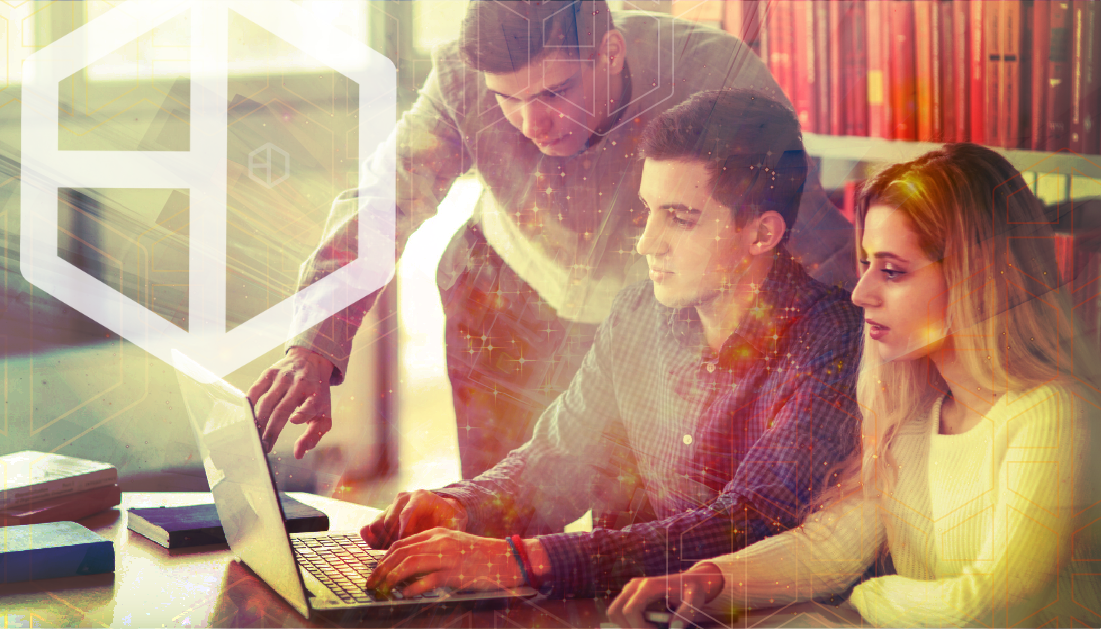 BetaDen welcomes young adults for work experience
03 Aug 2022
Published in: Programme Updates
---
In July 2022, BetaDen, Worcestershire's First Technology Accelerator, opened its doors to young adults seeking work experience in cyber and technology environments.
---
BetaDen, alongside other partner companies, mentored a number of Year 10 students who were seeking work experience in Worcestershire's ever-growing technology landscape. One of the students was Aaliah from Wolverhampton Girls High School - She had spent her time with BetaDen, Worcestershire Local Enterprise Partnership (WLEP), Midlands Cyber, and nexGworx executive teams, who shared their expert knowledge and gave the student a clear insight experience on how all 4 programmes operate. Aaliah undertook a variety of hands-on tasks, advancing her skills and knowledge, and giving her a better understanding of what's involved in the different job roles she had encountered during her time at the WLEP. One of the tasks was to write a short press release about why she chose to undertake her work experience at the WLEP, whether her goals were met, and what her ambitions and future views are.
Aaliah was very keen on discovering more about the cyber world. She said "I've been interested in Cyber Security and Technology for a few years now. A couple of years ago when I was in Year 8, I participated in a CyberFirst competition. After coming close to winning, I decided to further develop my knowledge in Cyber with the courses available to me.
Knowing my interest in Technology and Computer Science, I wanted to explore a job in the Cyber field. After applying to many different places, we found Worcestershire Local Enterprise Partnership (WLEP), and after further research and discovering there are other companies involved, such as BetaDen and Midlands Cyber, I have decided to come to WLEP, as I knew it would greatly benefit my knowledge of the world of technology.
Choosing this work experience was a step I made to narrow down my options to my desired field of work in future. For a few years, I've been wanting to work in the Cyber Security field, hoping to develop skills in penetration testing, vulnerability analyses, and cyber security engineering, while also being able to program using C++ and Javascript … This is all because of the CyberFirst competition I took part in years ago, and the opportunities that came along with that. In future, I hope to work for GCHQ."
Aaliah was very pleased with the outcome of her work experience and urged other students to explore the various options available, should they wish to gain experience in the technology industry.
"For other students who may be hoping to get into the world of technology, there are many opportunities that schools or companies may be able to offer. Schools can offer Computer Science from Year 7, covering a broad range of topics within Cyber and Technology - for example programming, computer systems & software. Young people may be able to take this as a GCSE and A-level option, allowing them to secure jobs in the Cyber field, or to strengthen their knowledge as a passion. CyberFirst has a range of courses and competitions that young people can take to broaden and develop their skills in the Cyber and Technology world. Other opportunities include companies like Skills Enterprise, which has a "Tech For Young People" project where children are invited to develop knowledge in technology, helping them to work with both 2D and 3D programming and robots. There are many ways young people can learn or enhance their skills in technology, and many of these opportunities lie behind a simple internet search or a simple question to a carer or a teacher."
Cesca Nutbeem, Cyber Executive at Midlands Cyber, said "It was great to have Aaliah join the Midlands Cyber / WLEP team for her work experience - the CYBX team were really impressed with her interest in their work and knowledge of the cyber industry!"
Regardless of Aaliah's interest and passion for technology, she was very aware of challenges that arise with the mass implementation of technology and online services into essential activities, with the main concern for herself being digital exclusion.
"Additionally, for those who can be digitally excluded, both young people and adults, there are digital literacy courses and workshops that help people to have a voice, lessening the social inequality gap. From learning about just how wide the gap was over Covid - with millions of families across the UK unable to work or study from home because of a lack of computers, phones, or digital skills - I think that this should be a priority of schools and companies. They need to ensure that nobody is digitally excluded, through funding or participating in projects, that allow families across the UK to have access to the digital world - teaching them basic digital skills. Because as the government and democracy move online, we can't leave anyone behind."
Daniel Filipi, Digital Marketing Assistant at BetaDen, said "It is vital that young people get a chance to see and gain insight into the technology landscape Worcestershire offers. As someone who has not long ago finished their university degree, I truly empathised with our work experience students.

Until fairly recently, I had no idea that there are so many different vacancies and opportunities for young adults available in Worcestershire to get into tech and cyber. Funnily enough, the 'Cyber Valley' where Malvern Hills Science Park and QinetiQ are located, is right at my doorstep, yet I had no idea what these venues had to offer for quite a long time.
Therefore, I am delighted that the two students that chose to take their work experience with us had such positive outcomes from it. It is crucial that local schools and universities make students aware of tech vacancies in the area, so more young people can see just how much value and support there is available these days if they are looking to get into the technology industry, and equally, how much the technology industry will benefit from young workers with fresh ideas."