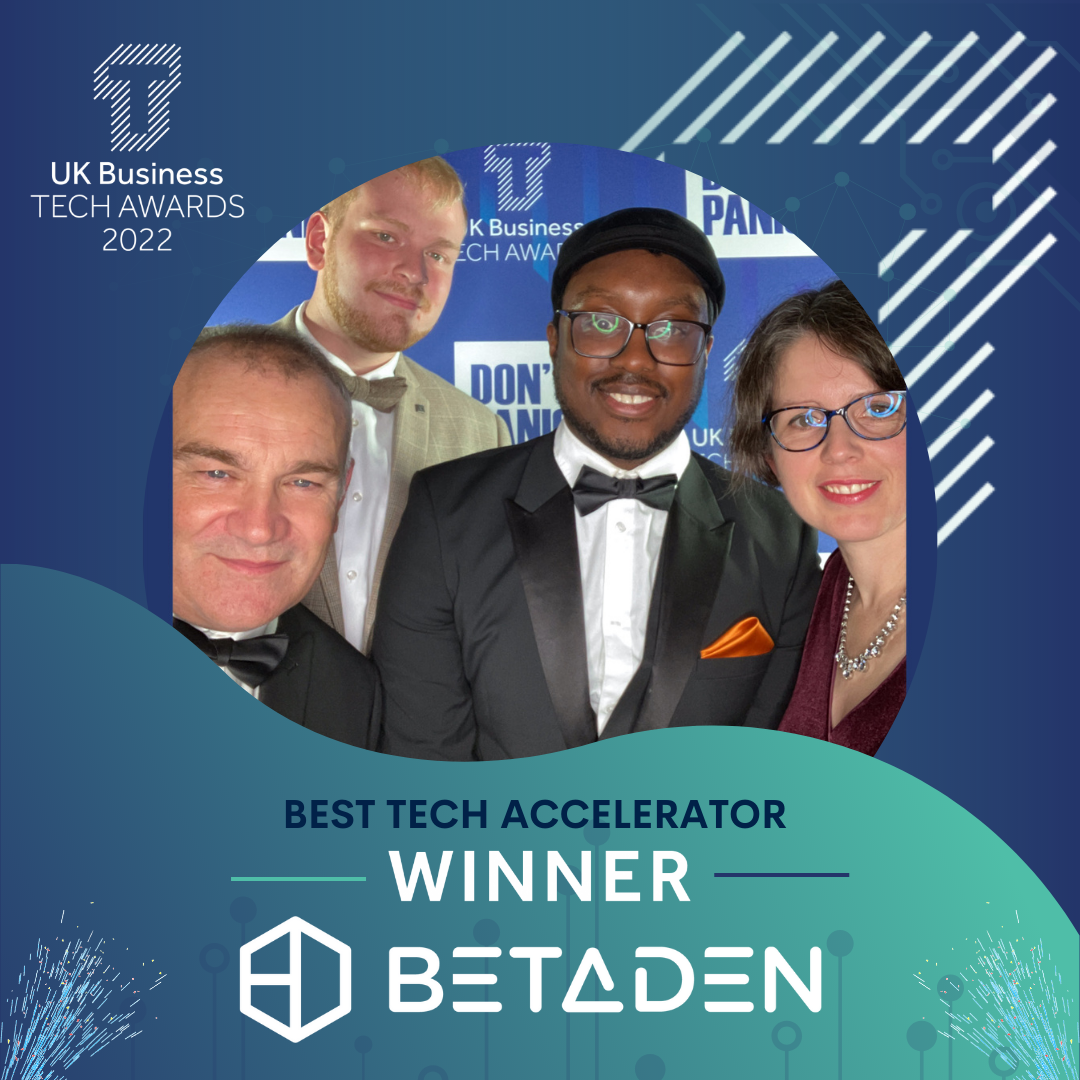 BetaDen awarded 'Best Technology Accelerator' at UK Business Tech Awards 2022
20 Oct 2022
Published in: Programme Updates
---
Worcestershire's first technology accelerator BetaDen has been awarded 'Best Tech Accelerator' at the UK Tech Awards 2022
---
We are delighted to have our work recognised by winning the 'Best Tech Accelerator' award at the UK Tech Awards 2022. The UK Business Tech Awards celebrate the UK's finest tech businesses and reward the innovative and exceptional application of technology to transform and grow businesses. The ceremony took place on the 20th of October 2022 at the prestigious Montcalm London Marble Arch. We do not take this award lightly and would like to thank all who have been with BetaDen throughout the years for their continued support.
Donston Powell, Marketing and Communications Manager at BetaDen said "Winning this award has strengthened BetaDen's reputation as the leading Tech Accelerator and reinforced that our mission to accelerate local technology is required and necessary. We are incredibly proud to now be recognised as the Best Tech Accelerator in the whole nation."
The award judges described BetaDen as "a clearly impressive project" and praised it for "produc[ing] notable successes and develop[ing] a compelling support package, including free access to a shared workspace."

BetaDen is unique in the technology accelerator space. Co-located with Worcestershire's first 5G testbed at the Malvern Hills Science Park, BetaDen supports the development of a broad range of technologies – removing some of the commercial sensitivities involved in participating in tech-specific programmes and thereby boosting the value it adds to participants.
As an independent accelerator, it is not beholden to any university or commercial partner, allowing founders to develop their technology in the way they see best without vested interests steering their direction.
The diversity of its cohorts is a real strength, allowing greater collaboration and cross-fertilisation of ideas than is possible in other settings. By not charging founders for its services, the accelerator is truly accessible to anyone with a good tech idea.
Since we launched in 2018, we have supported 43 businesses across a wide range of technologies. The recipe is proving increasingly successful, with cohort businesses securing millions of £ in investment and funding, proving new technologies, winning reputable awards, and gaining industry recognition.
Cohort businesses have now achieved great commercial success, created almost 100 jobs, forged links with giant industry partners such as HS2, Royal Mail, NHS and United Utilities, and are delivering world-first innovations to customers as far afield as Canada.

By pivoting its delivery model during the pandemic, BetaDen continued delivering real help for real tech during one of the most trying periods in recent history, supporting cohort founders to play their part in the pandemic effort and ensuring their businesses were ready to fly once the immediate emergency passed.
Being recognised as the 'Best Tech Accelerator' in the nation is putting Worcestershire on the global technology map, with two recent founders from Europe choosing to create UK businesses to develop their technology at BetaDen, and interest from countries as far afield as Finland and Taiwan. This inward investment is key to creating high-value jobs in the region, helping secure its economic future as we move into the digital age.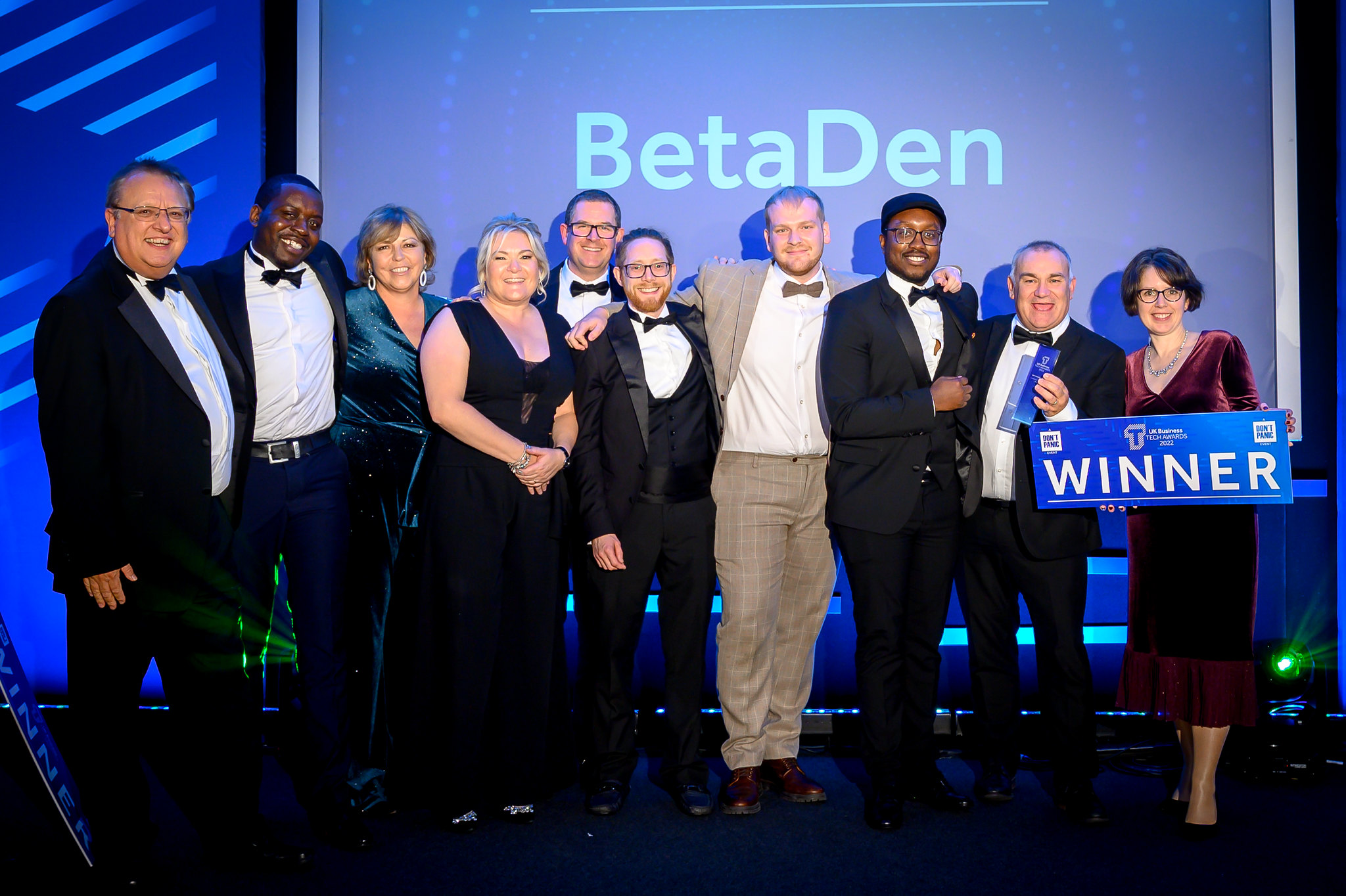 Tags
Worcestershire
Award
Best Tech Accelerator
UK Business Tech Awards 2022
UKBTA
UKBTA 2022
BetaDen