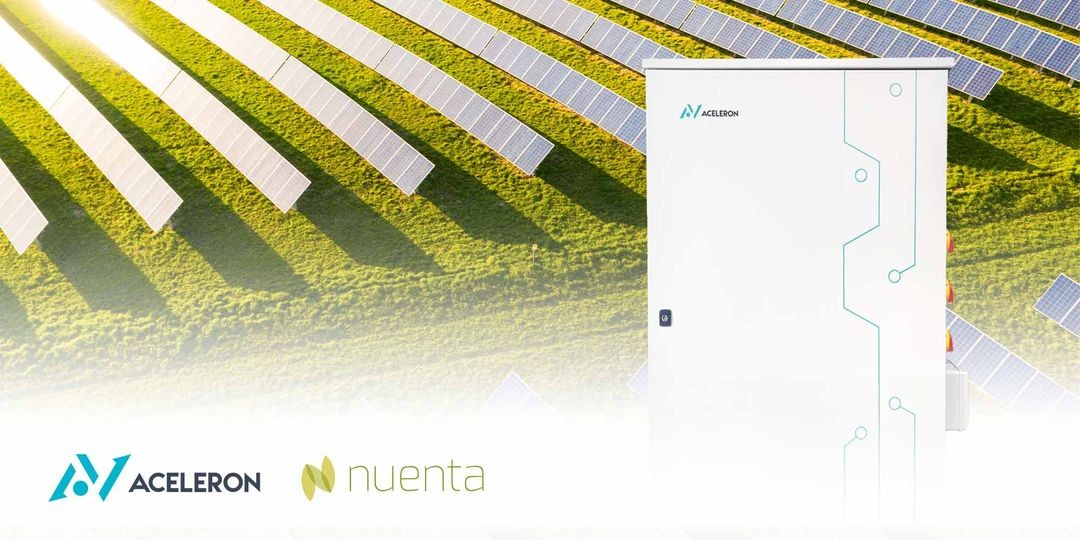 Award-winning cleantech firm Aceleron announces partnership with Nuenta to distribute its Offgen solar energy storage system in the UK
25 Nov 2022
Published in: General
---
Aceleron, which has designed and built the only battery energy storage system (BESS) that can be taken apart for repair, replacement and upgrade, has partnered with Nuenta, one of the largest distributors of renewable and environmental supplies in the UK.
---
Using Aceleron's patented technology, the Offgen is an all-in-one, modular energy storage system designed for off-grid or grid-tied residential and light commercial use. Designed to work seamlessly with solar PV systems, it has several benefits including easy installation, flexibility for homeowners and the ability to be repaired and upgraded, significantly improving the return on investment, and reducing battery waste.
Craig Baker, technical director at Nuenta, said: 'This is the first energy storage product that Nuenta has added to its extensive portfolio of renewable energy technologies. It is, without doubt, completely unique in the energy storage market and we are already seeing significant interest in the Offgen even at this early stage in the partnership.'
Bruce Macpherson, COO, Aceleron, added: 'We are really pleased to be partnering with Nuenta to bring the Offgen to its customer base of forward-thinking renewable energy installers across the UK and are looking forward to working with the team on developing an installation training programme over the coming weeks."
About the Offgen
While most systems require additional wall-mounted components for their installation, the Offgen is an all-in-one system, containing; lithium-ion batteries, hybrid inverter, communications interface and isolators in an electrical grade cabinet which can be installed inside or out. Compact and easy to install. Its open architecture provides complete flexibility for homeowners to use their own solar PV-generated electricity, low-tariff grid energy - or both.
With a capacity ranging from 4kWh to 11kWh per unit, Offgen's design allows users to choose the appropriate capacity for their needs, adding more batteries should power demand increase. Multiple units can be connected together, providing up to 33kWh in one setting.
The Offgen is also a cleantech force 'multiplier'; if a property has other clean technology installed, such as heat pumps, the renewable energy stored in the batteries can be used to power the heat pump - or other energy-efficient products.
With integrated remote monitoring capabilities, users and service engineers have the ability to check the system's status, monitor the solar/grid inputs/outputs, send maintenance requests and receive updates.
Nuenta will be working with Aceleron to develop an installation training programme as well as providing pre and post-sales support to customers throughout their energy storage journey.
About Aceleron

Aceleron is an award-winning clean technology company started when co-founders Amrit & Carlton dismantled and tested hundreds of battery packs and realised that batteries are not designed to be maintained.
Anticipating a future with tonnes of unnecessary battery waste, they designed a battery pack which is built with sustainability in mind. The world's most sustainable lithium battery packs have a full circular economy approach, being reusable, upgradeable and recyclable.
Together with their partner, software developer and digital transformation specialist Amdaris, 30 square metres of land in the Republic of Moldova has been planted with trees in Aceleron's name to honour the partnership and mutual dedication to the environment.
Aceleron's motivation is to empower global communities by increasing access to energy storage solutions for customers around the world.