Macmillan's Coffee Morning 2023 | Fundraising Event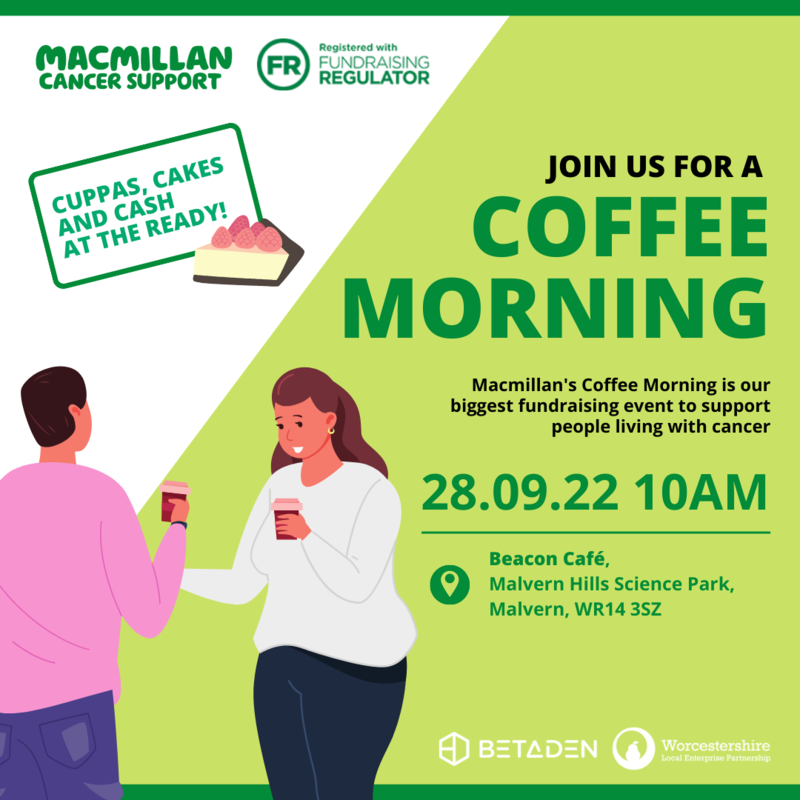 28 September 2023 10:00 AM - 12:00 PM
Beacon Café, Malvern Hills Science Park, WR14 3SZ
Join us on the 28th of September at 10 AM at Beacon Café, Malvern Hills Science Park for Macmillan Cancer Support Coffee Morning. Macmillan's Coffee Morning is our biggest fundraising event to support people living with cancer, so just by attending you will be supporting a good cause.

Do you have what it takes to earn the Chef's Hat and take it home with you as the winner of our cake-baking competition? Give it your all, things can get very competitive around here when it comes to sweet treats! Bring your best cake creation with you, or buy one when you get here. We will offer you some warm cuppas to go with it.

100% of the funds raised will be donated to Macmillan's Cancer Support.
If you can't come but would still like to give a donation to Macmillan just text CUPCAKE to 70550 (one text=£5), go to macmillan.org.uk/coffee or phone 0845 074 2606.
Texts cost £5 plus network charge. Macmillan will receive 100% of every £1 donated in this way.