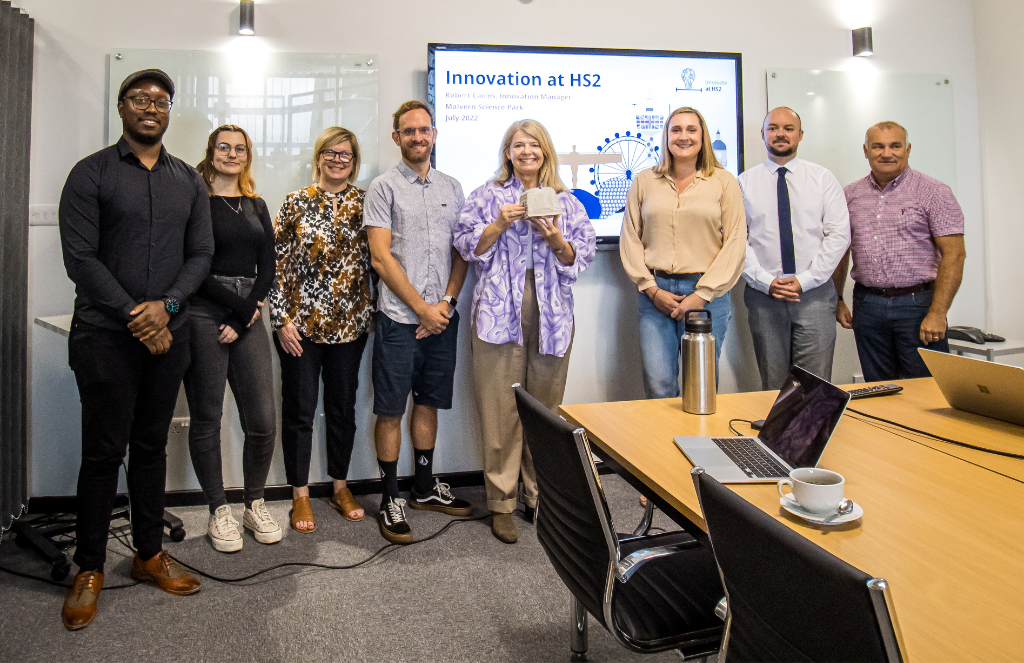 MP's visit highlights Malvern innovation with HS2
25 Jul 2022
Published in: General
---
Harriett Baldwin, MP for West Worcestershire, visited Malvern Hills Science Park on Friday to meet two Worcestershire companies developing new technology being deployed on the HS2 construction project.
---
PLINX - a sensor-based safety system designed to make construction sites safer - and Changemaker 3D - an onsite concrete 3D printing company - are both based at MHSP and represent both past and present cohort members at Worcestershire technology accelerator BetaDen.

Tommy Williams, founder and CEO of PLINX, now employs 14 people from its Malvern headquarters. Back in 2021, HS2 identified that PLINX's connected smart sensor technology would be a game changer for construction projects, and now there is 85km of PLINX connectivity along the HS2 line alone. Tommy said: "We were delighted to welcome Harriett Baldwin MP to Malvern Hills Science Park and demonstrate how our connected smart sensors create dynamic Digital Twins for construction sites; delivering step changes in both safety and productivity.
"The construction industry has a crucial role to play improving infrastructure and driving economic growth across the country. Improving the number of projects that are delivered on time and in budget is a high priority for government and industry alike, but it also has one of the worst workplace safety records of any industry, being responsible for over one third of work-related deaths in 2019/2020.
"Our system reduces risk to both personnel and expensive machinery across construction sites, making the most of advances in sensor and telecoms technology to prevent accidents and reducing costly down-time associated with such incidents. It also delivers a valuable 'feedback loop' to project planners giving them an opportunity to take early action to prevent or mitigate site actions that could cause delay or add cost to the project.
"Our technology has been extremely well received by the construction sector since we developed it at BetaDen and, through our experience working with HS2, we've now been able identify a number of additional features that will add real value on site including our site-deployable 5G network which we will be trialing over the next year in Malvern and launching in 2023."
Changemaker 3D, which is part of the current cohort at BetaDen, has also engaged directly with the team at HS2. Natalie Wadley, founder and CEO of Changemaker 3D, picks up the story: "We set up Changemaker 3D with a mission to help the construction industry leave a lighter environmental footprint.
"We use CyBe Construction concrete printing technology, which combines state-of-the-art 3D robotics with print innovation to produce a mortar that is 30% more environmentally-friendly than traditional Portland cement. It offers a high level of thermal efficiency, and which can also be load bearing within one hour, saving considerable time on site.
"Transforming our infrastructure is a critical factor in the UK's race to Net Zero and we're excited to be working with industry partners - such as HS2 and SCS Railways - to break new ground and prove the immense potential of 3D printing to the sector: reducing waste by printing on demand; using less material; reducing travel emissions by printing on site; and enabling local project supply chains that support the reduction of a project's overall carbon footprint."
As part of the visit, Harriett Baldwin MP enjoyed a video about Changemaker 3D's technology as well as a live demonstration of PLINX's sensor technology. She said: "It was really informative to meet with two local companies in Malvern who are helping to make HS2 one of the most innovative construction projects ever.
"This visit gave clear evidence of how this project is creating jobs and growth all over the country, including right here in West Worcestershire.
"I've always been a champion of the bright and ambitious companies based at Malvern Hills Science Park and I know they will use HS2 as a platform to grow further and faster on the back of this project."
Applications to join Cohort 6.0 at BetaDen close at 8pm on Monday 1 August. The programme offers early-stage technology businesses a comprehensive programme of support worth around £50,000, including access to a £10,000 proof of concept grant, marketing funding worth £2,000, dedicated free office space in Malvern Hills Science Park, access to Worcestershire's 5G test bed, advice from mentors in Strategic Marketing, Raising Investment, Product Development, Intellectual Property, Accounting & Structure, Technology Stack, Mindset and much more. For further details, visit this link.