Digital Security by Design - Keeping SMART Technology Safe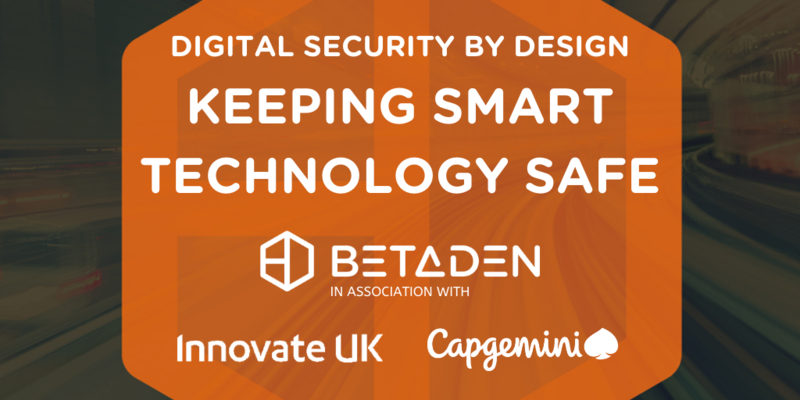 21 January 2020 2:00 PM - 4:30 PM
BetaDen HQ, Unit 50-51 Malvern Hills Science Park, WR14 3SZ
BetaDen in Partnership with Innovate UK & KTN present Digital Security by Design, a focused and insightful tech talk.
About this Event
BetaDen are thrilled to kick start 2020 with Innovate UK & KTN: Digital Security by Design - Keeping SMART Technology Safe here at Malvern Hills Science Park.
Internet of Things (IOT) is now an everyday part of our lives. However, with these benefits come greater cyber security risks and threats. These opportunities will provide the focus for our first Tech Talk of 2020.
Leading Industry speaker Bryan Lillie of Capgemini, will provide insights into the practical combinations of cyber security and IOT faced by all industries. Joining them will be Georgios Papadakis, Senior Innovation Lead at Innovate UK, and Richard Foggie, IOT lead from KTN (Knowledge Transfer Network). They will provide information on new funding for the ISCF Challenge: 'Digital Security by Design' and 'Security of Digital Technology at the Periphery - Keeping our Smart Technology Safe'.
Refreshments will be provided.
Bryan Lillie is a Management Consultant at Capgemini, where he offers technical leadership in a fast-evolving discipline, bringing to the table over 30 years of experience from both public and private sectors. The structure of Bryan's career has given him a sound understanding of security principles combined with the experience of applying that knowledge into several different environments, technically and culturally.
About Capgemini
A global leader in consulting, technology services and digital transformation, Capgemini is at the forefront of innovation to address the entire breadth of clients' opportunities in the evolving world of cloud, digital and platforms. Building on its strong 50-year heritage and deep industry-specific expertise, Capgemini enables organizations to realize their business ambitions through an array of services from strategy to operations. Capgemini is driven by the conviction that the business value of technology comes from and through people. It is a multicultural company of over 200,000 team members in more than 40 countries. The Group reported 2018 global revenues of EUR 13.2 billion. Visit us at www.capgemini.com
For more information contact the BetaDen team:
E: info@beta-den.com
TEL: 01905 672700
The next in BetaDen's Tech Talk series will take place on Tuesday 19 November at OGL Computer, Kidderminster
Read more SHARE


BetaDen recently welcomed a delegation of entrepreneurs and inventors to its headquarters at Malvern Hills Science Park.
Read more SHARE